An amazing lavender experience awaits you. Nestled among the vineyards and tranquil fields are six unique family-run lavender destinations most offering U-pick lavender flowers, exquisite lavender products and crafts, classes, essential oil distillation and potted lavender plants. The OSU demonstration garden is also part of our tour. Stop by to see a large selection of lavender varieties and then visit all of the venues – entirely free of charge – to enjoy the sight, smell and taste of lavender! Our farms are open in June and July when the lavender is generally in full bloom. Please note that venues have slightly different opening times, so please check for hours and information about classes, special events & other happenings. We look forward to seeing you on the trail!
Goodwin Creek Gardens
970 Cedar Flat Road
Williams, OR 97544
(541) 846-7357
www.goodwincreekgardens.com
Open Mar – Sept., Fri-Sat, 9:00-5:00 Also open on Sunday during the lavender festival.
Here at Goodwin Creek Gardens farm and nursery, we grow what we sell. In our organic greenhouses we propagate and grow over 125 varieties of lavender and over 350 other perennial plants including culinary herbs, plants with traditional medical use, pollinator plants, and permaculture favorite trees and shrubs. Along with the live potted plants, we grow many herbs on our farm that we harvest and craft into teas, tinctures, and many other botanical goodies.
We hope to see you out on the farm this year! We will open our nursery and farm for the 2023 season on Earth Day, Saturday April 22nd 2023. We will be open Friday and Saturdays from 10am to 3pm, and Sundays from 10am–1pm. We will be closed from July 23rd, thru September 22nd.
Come check out our large selection of lavender and herbs, stroll our display gardens and listen to the buzz of the pollinators at work. We offer group classes as well as one on one consulting for lavender growing, permaculture design, soil health, regenerative farming, plant propagation and more. Whether you need advice for organic farming or 5000 lavender plants for your farm, we can help!
Applegate River Lavender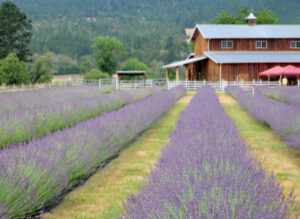 Business Hours: Open to the public lavender festival weekends 10am-5pm and Fri, Sat, Sun 10:00am – 3:00pm June 17 – Aug 7th. Check website for up to date open hours.
Many French vintners believe the best wines come from grapes grown along a river… we believe that also includes lavender. Applegate River Lavender Farm has been the perfect "get outta town" escape (15-minutes from downtown Jacksonville) for lavande lovers, families, photographers, painters, and dogs since we opened our gates in 2012. Take a peaceful country break and stroll our fragrant fields, pick a fresh bouquet, hang out in the barn or picnic under a shady maple tree with the snow-capped Siskiyou Mountains in the background.
During our two Southern Oregon Lavender Festival weekends (June 23-25, July 14-16), we have historically welcomed local artists and artisans to help us celebrate. On certain Festival mornings we open early, allowing visitors to witness "sleeping bumblebees" on the lavender flowers – please check our website for exact hours and details. The skies are often filled with paragliders during Festival weekends as Woodrat Mountain (home of the "Wings over Applegate" competition) is two miles from the farm.
Once you're here… there are LOTS of other Applegate Valley experiences to take in. Applegate Lake is 15 miles upriver and Cantrall Buckley County Park/Campground is a mile downriver. There are seven award-winning wineries within a 5-mile radius of our location. We also invite you to visit our five sister lavender farms that we can direct you to.
Besides the field, it's all happening in the barn where live music, weddings, dinners, classes, workshops and private Applegate gatherings are held. The sweet fragrance of lavender pervades the barn from drying bundles hanging from the timbers and steam escaping the essential oil still.
During your visit you can find tasty snacks and refreshments, in addition to all natural lavender products that reflect our dedication to sustainable farming practices and minimized single-use plastic. We hand harvest and distill essential oil in small batches – using only the flowers – allowing the distinct characteristics of each variety to shine through.
Take some time for yourself today and experience lavender in the heart of the pastoral Applegate Valley. We are open most weekends during June and July, Friday to Sunday, 10am to 3pm – please check our website or social media for specific hours and availability.
The English Lavender Farm
8040 Thompson Creek Road
Applegate, OR 97530
(541) 846-0375
www.englishlavenderfarm.com
Open July & Aug., Fri-Sun, 10:00-6:00
The English Lavender Farm is known for its picturesque landscape with aromatic lavender fields, beautiful hand made products and authentic British charm. Our family-friendly farm is open from 10am – 4pm from Friday to Monday between June 9 and July 31.
During our lavender Festival weekends (June 23 – 25 and July 14 – 16) we are open an hour later until 5pm. We invite a local food truck, artisan vendors from the valley as well as local bands and solo musicians to celebrate with us making for a fun-filled stop on the Southern Oregon Lavender Trail.
The farm is located in a picturesque and serene location in the Applegate Valley which is recognized for its beautiful fields of lavender and its splendid wineries. The property features 360 degree mountain views and a purple vista that is a sight to behold in late June and early July. The air is filled with the sweet and calming scent of lavender, making it the perfect place to escape from the hustle and bustle of everyday life.
The farm specializes in growing English lavender varieties, which are prized for their delicate scent, often referred to as "True" lavender. Our lavender essential oil is distilled daily in an area where visitors can see it being produced and there is always someone on hand to explain the process. Visitors can wander through the lavender field, taking in the stunning purple, blue and white hues and the gentle rustling of the lavender plants in the breeze. Honeybees and bumble bees are plentiful once the lavender blooms and the farm also sells delicious lavender honey. The lavender is harvested during July and can be purchased on site, either as fresh or dry cut bundles or in the form of lavender oil, soap, or other products. U-pick lavender is available in July when the lavender is at its prime.
The English lavender farm is also a popular spot for photographers, with its picturesque scenery and beautiful light, making for stunning photos. Additionally, the farm hosts a variety of events throughout the summer months, such as workshops making lavender wreaths, craft fairs, and even outdoor concerts. The events page on our website provides information on all our planned activities.
Whether you are looking for a peaceful escape or a unique experience enjoying lavender ice creams, shortbread, lemonade or even a glass of wine, the English lavender farm is a must-visit destination for anyone who loves the natural beauty and tranquility of the Applegate Valley in Southern Oregon.

Dos Mariposas Vineyards & Lavender Farm
3976 Bellinger Lane, Medford, Oregon 97501 (541) 218-9523
Facebook: Dos Mariposas Vineyards & Lavender
https://dosmariposasvineyards.com
Open June 25-27 & July 16-18, 10am-5pm
At Dos Mariposas Vineyards & Lavender, you will discover a multi-color lavender field, beautiful vineyards, delicious wines, a giant sandbox, an onsite guesthouse, and stunning mountain views from the tasting room.
Dos Mariposas Vineyards and Lavender Farm is a multi-generational family farm that is lovingly tended to by everyone, including the littlest helpers. We opened the doors to our tasting room and farm stand in fall of 2022 and are now open year-round. On the farm you will discover beautiful vineyards, our colorful lavender field, a large pond teeming with wildlife, a giant sandbox, an onsite guesthouse, and stunning mountain views. We are open Thur-Sun afternoons and will be open for extended hours during lavender season; specific days and times will be updated on our website and social media pages.
During the 2023 lavender festival weekends, join us to sip wine or lavender lemonade, pick a bundle or lavender, and enjoy some live music on the weekends! We will also offer essential oil distillation demonstrations on select days. Our farm is family oriented with activities for kids both inside and outside. We offer food in the tasting room and will bring in a food truck or two during the festival weekends. Hours on festival days: 10:00am-7:00pm.
Dos Mariposas, which means two butterflies in Spanish, was named for our girls, Amelia and Adeline, who are becoming lavender experts and love to help in the field, especially with u-pick.  Little Finley, who joined the family in 2020, is quickly learning his way around the farm and is the resident brix tester for the grapes (which mostly involves eating as many of them as possible).
Please join us anytime to sip wine or lavender lemonade and perhaps enjoy live music on the weekends. During the lavender season, we will also offer "magic hour" photography bookings.

Lavender Ally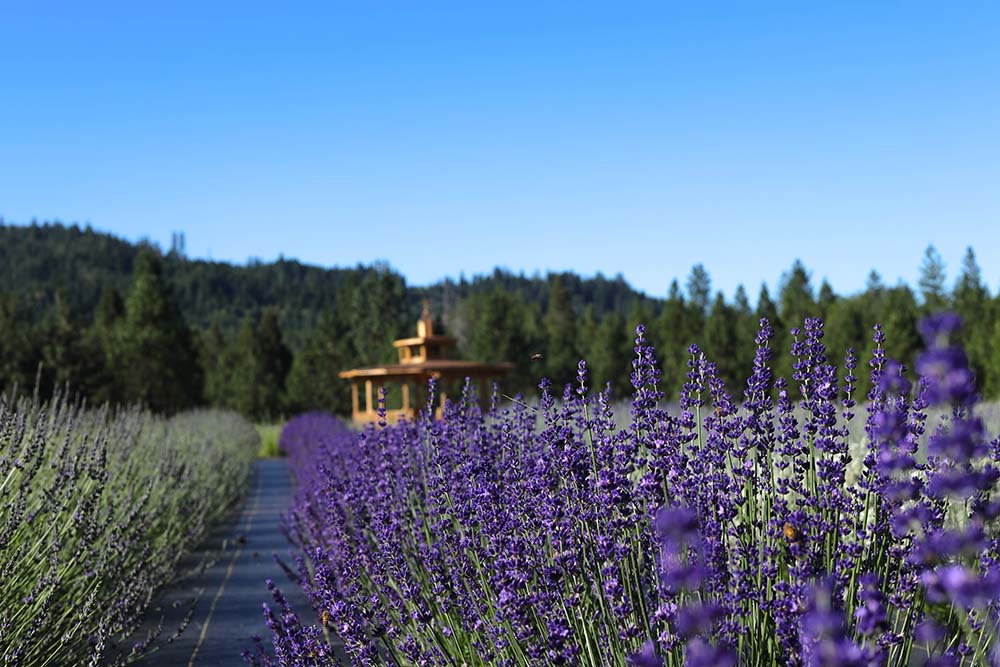 5734 Pleasant Creek Road, Rogue River Oregon 97537
(541) 582-8998
lavenderally.com
Open June 5 – July 31, Sat-Sun 10am-5pm
Nestled within the mountains of Rogue River, Oregon lies a cozy farm hosting a variety of lavenders. We do our best to provide a great and memorable experience for our visitors by providing activities and products that would interest any lavender lover. Stop by and enjoy the beautiful scenery while taking in the fresh smell of hand-grown lavenders!
Kingfisher Lavender Farm
7717 Upper Applegate Road, Jacksonville, OR, USA
541-702-2019
Open June-September, Thursday-Sunday, 10am-4pm.
Kingfisher Farms is a recently established agribusiness located along the Applegate River in southwest Oregon with a focus on growing lavender and cut flowers. In the Spring of 2022 approximately 2500 lavender plants were planted on the farm representing twenty-one (21) separate varieties. In addition to the lavender fields the farm contains a large garden of annual and perennial flowers for fresh cut bouquets available throughout the summer months. Along with the farm-grown products the farm's gift shop features a variety of products made by local artisans.Visitors are welcomed to the farm during the upcoming 2023 Southern OregonLavender Trail to be held during the weekends of June 23-25 and July 14-16. The farm will also be open to the public during the summer months (June-September) Thursdays through Saturdays 10AM-4PM. Reservations can also be made to view the farm at other times with previous arrangements.