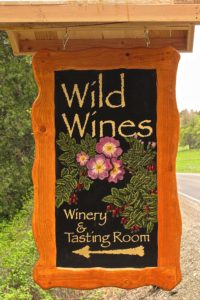 Carla David started Wild Wines 10 years ago with a passion for plants and being in the outdoors.  Our specialty is creating handcrafted, artisanal wines made with organically grown and wildcrafted flowers, fruits and berries.  While the materials we use sets us apart from the many grape wineries of the region, our wines are similarly of high quality.  We add no sulfites or additives to our wines, and use only the finest and freshest botanicals harvested at their peak to produce the multitude of offerings you must experience for yourself.  The farm cultivates many of the fruits, berries and flowers, and many are wildcrafted locally as well, or purchased from nearby farms.  Our wines are primarily dry, table wines, dispelling the myth that all fruit wines are sweet.  Our offerings include:  Dandelion, Peach, Ginger, Lindenflower, Elderflower, Raspberry, Blackberry, Elderberry, Blueberry, Aronia Berry, Oregon Grape, and Rosehip wines.  Current production is 500 cases a year and we expect to grow to 1000 case production over the next few years.
The newly finished tasting room is an incredible example of earth-friendly strawbale construction and detailed craftmanship.  You are sure to be impressed by the comfort and beauty it provides with views of our farm, pond, gardens and the soothing sounds of the Little Applegate River.
Wild Wines
4550 Little Applegate Rd.
Jacksonville, OR 97530
(541)899-1565
www.enjoywildwines.com
[email protected]
Winery Information:
Open to the Public
Tasting Room
Tours
Wheelchair accessibility
Family friendly
Tasting room information:
Located 1/2 mile past the 4 mile marker on Little Applegate Road.
Tasting Room Hours: Saturday & Sunday 12pm-5pm.
Tasting fee: $6 (refunded with purchase)