WINERY OVERVIEW
Southern Oregon's Premier Winery! Established first in the 1850's, Valley View Winery produces a variety of wines which will please every palate.
The Anna Maria label, which represents the finest wines we make, is available in only the best vintages.
The Valley View label represents premium quality wines at very affordable prices. Browse our site to learn about us, view our wines, plan your visit, and order wines directly through our Web site.
WEBSITE: http://www.valleyviewwinery.com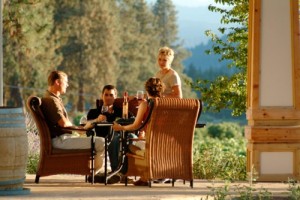 WINERY INFORMATION
Open to Public
Tasting Room
Weddings ceremonies
Wedding receptions
Picnic area
Bus/RV parking
Wheelchair accessibility
WINERY ADDRESS
Valley View Winery
1000 Upper Applegate Road
Jacksonville
Phone:(541) 899-8468
Fax:(541) 899-8468

[email protected]
11-5 every day
TASTING ROOM INFORMATION
1000 Upper Applegate Road
Jacksonville, OR
Tasting Room Hours:
Tasting Fee: $5
(Refunded With Purchase)